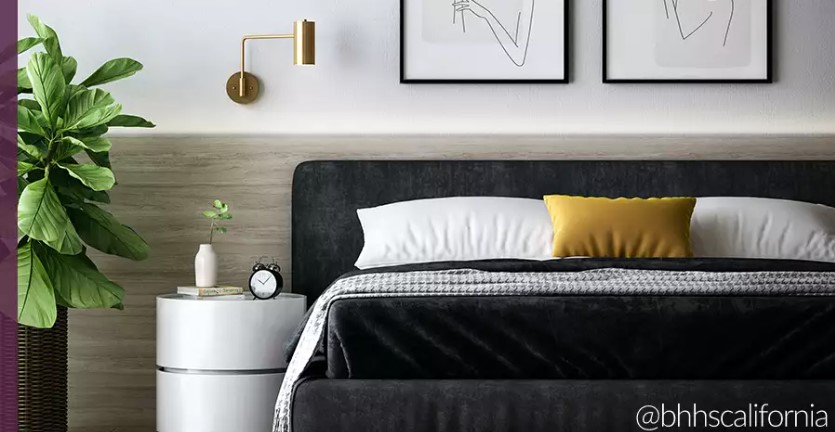 Author: BHHSCalifornia
Your bedroom is the most sacred space in your home. It is the one place where you can feel most at peace, so creating a bedroom sanctuary where you can relax at the end of the day is an important undertaking for any homeowner.
At the end of the day, the last thing you want to come home to is a cluttered, "noisy" bedroom. If you have too much going on, it can make it harder to settle in for a good night's rest. We recommend simplifying your space, starting with the design.
Here are five ideas to give your bedroom a refresh. This quick guide will help you achieve that bedroom you've been desiring without spending a fortune.
Create a statement with wallpaper
If you're looking to create a wow factor without having to spend a fortune on rugs, linens, decor, and tchotchkes, a patterned wallpaper will easily transform your space. Choose one with a neutral color or go bold with exciting patterns. If you're on a budget, find something that complements the main pieces you already love in your bedroom. Ei
Stick to one paint color
Wallpaper not your thing? Wrap your room in one solid, neutral, or subdued color. Choosing colors that are soothing to the eye can instantly make your space cozier without too much effort. If you are craving boldness, throw in a patterned quilt or rug and curtains or small accent pieces that complement the soft colors. Or, choose a darker, bold color that steals the show and choose neutral furniture, linens, and accents.
Invest in high-quality bedding
Of all of the items, you could update in your bedroom, having luxurious bedding should be your priority. Nothing says comfort quite like a great bedding and duvet set, and don't forget your pillows, too. We suggest choosing colors that are soft and subdued, with no or minimal patterns. Any splashes of color should come from a throw blanket and pillows. For warmer months, swapping out thick comforters for lightweight blankets and sheets can also make a huge impact on your sleeping routine.
Add personal touches
Adding personal décor accents can bring a sense of calmness to your primary bedroom. Incorporate hand-embroidered wallpaper, delicately-made lighting pendants, or even simple, vintage bedside tables to tie your personality into the room and create a totally unique space that is all yours. Avoid bringing anything into your bedroom related to work or stress; you need this space to unwind and refresh yourself for a brand new day.
Consider switching your lighting
Lighting can make or break the vibe in your bedroom, especially if you have off-white, cold lightbulbs in your ceiling. Warm, dimmable lights in form of a cove light in your ceiling or your nightstand are a great option. Be sure to have at least two lamps, whether placed on the nightstand or freestanding, for either side of the bed. These will create a warm glow right before you drift off and ensure you don't have to leave a warm bed to hit the lights. If lounging in bed before sleep is your thing, we suggest buying red bulbs to create an even more calming ambiance (this study found that 30 minutes of red-light exposure improved sleep and melatonin levels).
We are always here to help and answer your questions. Give us a call today!
Corrigan | Cohen Group
BERKSHIRE HATHAWAY HOMESERVICES CALIFORNIA PROPERTIES
1299 Prospect Street | La Jolla, CA 92037 | Broker DRE# 01317331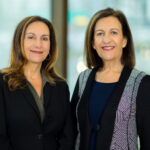 Susana Corrigan
858.229.8120 | Lic# 00837598
Patty Cohen
858.414.4555 | Lic# 01340902
Chairman's Circle – Diamond – Top ½ of 1%, Berkshire Hathaway HomeServices Global
Top 25 Small Teams Out of 50,000 Agents, Berkshire Hathaway HomeServices Global
Legends Award Winner, Berkshire Hathaway HomeServices California Properties
Top 200 Teams in the U.S.A. as published by The Wall Street Journal – Top ½ of 1% of Realtors Nationwide
2017-2021 San Diego Association of Realtors Circle of Excellence Award
San Diego Magazine – 5-Star Professional Agent Award 2005-2022